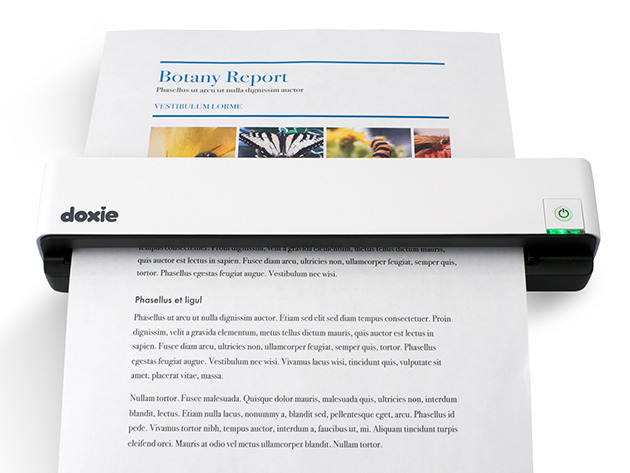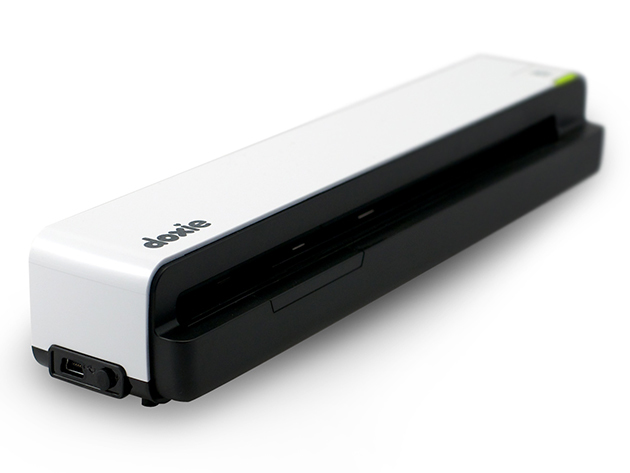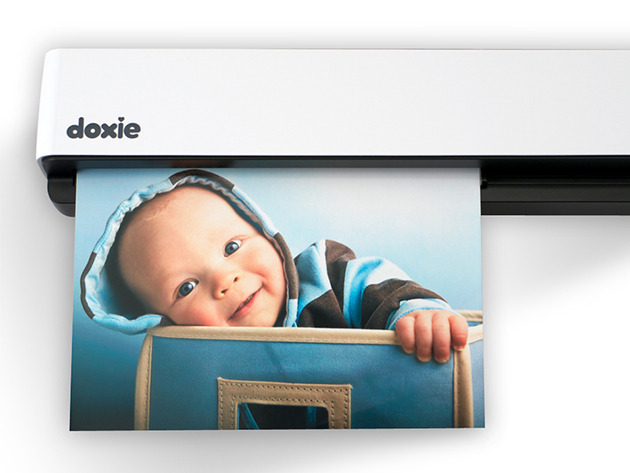 Doxie Go: Flawlessly Scan Documents Anywhere (US)
by Apparent
Go Paperless With The Portable & Rechargeable Scanner + Free Shipping!
Description
SCAN & ORGANIZE LIKE NEVER BEFORE
Doxie – it's never been easier to go paperless and organize simultaneously. Doxie scans everything from bills and receipts to reports, drawings, recipes, notes, business cards, photos, and everything else – wherever you are, no computer required – just charge it up and turn it on. And the best part? Doxie syncs to your Mac or PC and helps you organize scans, create searchable PDFs, and send to the cloud (Dropbox, iCloud Drive, & Evernote) with a click. It's the ultimate, simple way to go paperless.
WHY YOU'LL LOVE IT
Business owner? Stay-at-home mom? College student? Everyone needs a scanner these days, whether it's for daily use or the occasional random legal document, Doxie couldn't be quicker or easier to use. If you made a New Years resolution to go paperless, Doxie will streamline the process, keep your documents organized, and keep you from going insane.
TOP FEATURES
Scan Anywhere - Doxie's compact size, built-in battery and memory let you bring the scanner to the paper.
Fast - Scan full-color pages in just 8 seconds.
Built-in Battery + Memory - Scan up to 600 pages (2,400 photos) with built-in memory. For additional storage, simply insert an SD card or USB flash drive.
Sync to All Your Devices + the Cloud - Plug it in to your Mac or PC via USB and send to Dropbox, Acrobat, Evernote, Google Drive and more.
Doxie Software Included - Doxie 2.0 syncs scans, creates searchable PDFs, creates multi-page documents, and saves in the Cloud.
OCR + Searchable PDFs - Award-winning ABBYY® OCR technology recognizes the text in your documents, creating searchable PDFs. Search all your text, then copy and paste with ease.
THE PROOF
"The Doxie Go isn't the only portable scanner on market, nor does it pretend to be... Unlike most portable scanners, which tend to be bulky and require an electrical outlet, the Doxie Go weighs just 14.2 oz... and it's powered by a lithium-ion battery capable of 100 scans on a single charge. That might not seem like a lot, but when the bulk of the competition can't function without a cord, trust us, it's plenty impressive." -
Gizmodo
"Most Popular Document Scanner for Going Paperless: Doxie Go" -
Lifehacker
PRODUCT SPECS
Resolution: Up to 600 dpi
Speed: 8 seconds per page (300 dpi color); 5 seconds per photo (4x6", 300 dpi color)
Page Size: From business card up to 8.5x15" (includes A4, U.S. letter and legal sizes)
Output Formats: PDF, JPEG, PNG; Color, black and white
OCR: Create searchable PDFs with integrated ABBYY® OCR technology
Controls: Multi-action power button; adjustable paper guide ensures straight scanning
Dimensions: 10.5" x 1.7" x 2.2" (26.7 cm x 4.35 cm x 5.6 cm)
Weight: 14.2 oz (403g)
Connections: Connects via USB to sync and charge
Expansion: SD card slot; USB flash drive port
Power: Built-in lithium-ion battery (100 scans per charge, recharges in about 2 hours)
SYSTEM REQUIREMENTS
USB 2.0 port for syncing scans and charging
Mac: OS X 10.7, 10.8, 10.9, or 10.10 "Yosemite"; Intel processor
Windows PCs: Windows XP, Vista, Windows 7, or Windows 8
iOS: Compatible wireless SD card or iPad Camera Connection Kit, sold separately
IN THE BOX
One (1) Doxie® Go rechargeable paper scanner
Doxie companion software for Mac + PC
Quick Start Guide
USB sync/charge cable
Photo scanning sleeve
Calibration sheet
Cleaning tool
Terms
Free Shipping Included
No refunds
Shipping limited to Continental US only,
For international shipping check the "Ship To" drop down above
Please allow up to 2 - 3 weeks for shipping
All prices are in US Dollars (USD)