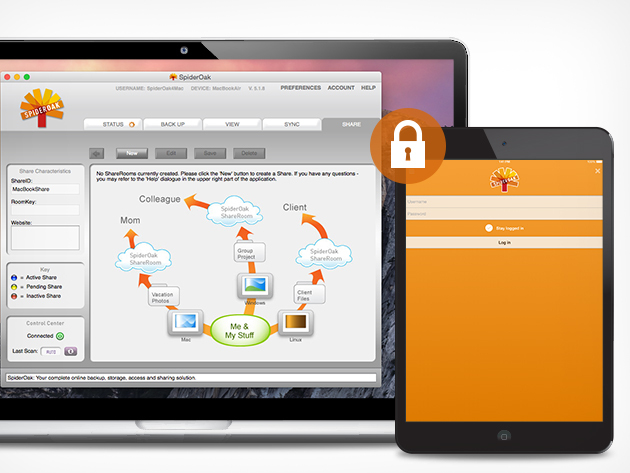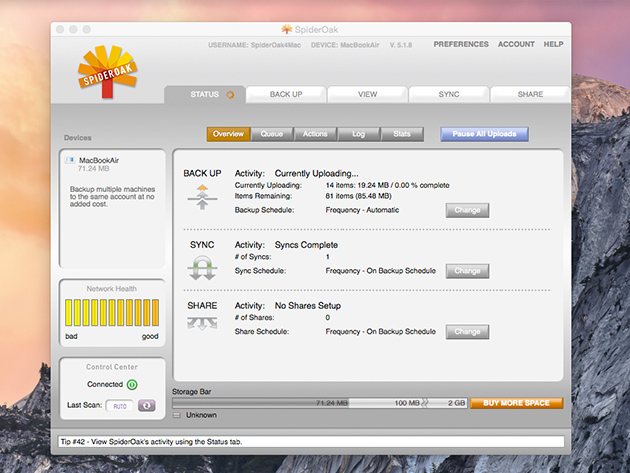 1 Year Of SpiderOak Pro: The Most Private Cloud Storage Available
by SpiderOak
A 200GB Digital Vault For All Your Digital Property That Literally No One But You Can View
Description
Promotion for new SpiderOak users only.
THE ONLY CLOUD WITH SNOWDEN-APPROVED PRIVACY
Odds are you have a lot of important data floating around the web - from family photos and important documents to your music collection and movie library. But how can you be sure that all of your private digital property is safe? With hackers running rampant and the government blatantly defying any sort of personal privacy boundaries, you are at more risk now than ever before of having your data stolen or snooped.
SpiderOak cloud storage wants to give you back the power of privacy. SpiderOak allows you to benefit from the convenience of cloud storage technology while never sacrificing a single ounce of your privacy.
Their 'zero-knowledge' policy ensures that only you can see your data. No one else can gain access. Not their staff. Not a government. With a year of the SpiderOak Pro Plan, you get 200GB of space in which to store and backup all of your important data. You can easily sync data between all of your devices and it's simple to share with your family, friends or colleagues.
WHY YOU'LL LOVE IT
The 'zero-knowledge' privacy environment provided by SpiderOak is
huge
, and they truly take this policy to heart. With SpiderOak you can be certain that your data is safe and that you are always the only one in control of who can access your digital property.
TOP FEATURES
'Zero-Knowledge' Privacy: No one but you sees your data. Ever.
Access Anywhere: View your data from any device, anywhere.
Unlimited devices: Have tons of devices? No problem, sync across them all.
Restore everything: Back everything up, and rest assured that it's always available.
Trash recovery: Even if you delete a file, SpiderOak keeps a copy.
Always working: Always runs in the background to ensure your data stays safe 24/7.
Keep every version: Access any version of a file - from creation to final.
WHAT YOU'LL NEED
Mac OS10.6 and later or
Windows XP and later or
Ubuntu LTS, OpenSUSE, Fedora, and RedHat
English only
THE PROOF
"SpiderOak has structured their system in such a way you can store all of your information on them with the same sort of features that Dropbox does, but they literally have no access to the content." -
Edward Snowden
"SpiderOak never deletes previous file versions, and only you have the encryption key to your data. A strong mobile client is yet another plus." -
PC Mag
"If you're looking for the highest level of privacy and a service that has all of the pieces in one place for backup, sync, and read-only folder sharing, SpiderOak offers the strongest solution." -
MacWorld.com
SOFTWARE LICENSE DETAILS
How many computers can you activate software with? - Unlimited computers and devices
When does license need to be redeemed by? - No expiration date
Does it include updates? - The user will need to manually update the software, and can do so HERE and by following the SpiderOak blog for update announcements
Terms
All sales are final
Instant digital redemption
New SpiderOak users only
The listed deal price is in US Dollars (USD)